Other photo editing tools
Create Photo Collages
Create collages with a large selection of layouts and use advanced settings to customize the design. The process of creating a collage is very simple: just upload the photos to the layout, swap them if necessary, adjust the color of the border or add a background, also optionally you can add text or clipart to the collage.
Create a Collage
Resize Image
This simple editor will help you quickly resize the image to the desired width and height while maintaining the aspect ratio. This will be useful if you want to reduce or increase the size of the image to a certain pixel value in width or height.
Resize Image
Crop Image
Need to crop an image? Easily! Use our editor, which will help you quickly crop the image in the desired area. You can also select the aspect ratio from the list, for example, a 3x4 photo or a YouTube cover, this will make the cropping as accurate as possible.
Crop Image
Flip and Rotate Image
Need to quickly flip the image? Then use our simple editor, which will help you quickly flip the image vertically or horizontally, as well as rotate the image to the right or left.
Flip Image
Photo Filters and Effects
This editor has a large set of photo filters and effects that will make your photo in a special style. Using this tool, you can get a retro photo style of the beginning of the 20th century or make a bright photo in a disco style with color gradients and hundreds of design options!
Photo Filters
Add Frame to Photo
Use a large set of beautiful photo frames to make your photo in a unique style. To add a frame to a photo, simply open the editor and select your favorite frame from the list (for example, a vintage or grunge frame), or just add a color border.
Photo Frames
Photo to Art
This amazing tool based on neural networks will allow you to transform your photo into a picture of a famous artist in a few seconds. These filters have different artistic styles and are based on paintings by famous artists, so don't miss the chance to get even closer to art!
Create Art Photo
Photo Overlays and Textures
Our photo editor has dozens of unique textures that you can overlay on your photo and adjust the transparency level. All overlays are sorted by category, so it will be easy for you to choose the best option for your photo or image.
Make Overlay
Add Text to Photo
This tool will be useful if you need to quickly add one or more texts to the photo. Take advantage of a wide variety of fonts that reflect your mood best. To get started, simply upload the photo to the editor and select a font from the list, enter the text and adjust its color and size.
Add Text to Photo
Add Clipart to Photo
This tool will make the mood for any photo or image. Choose a suitable sticker from hundreds of types of clipart and add to your photo with one click. Drag and drop stickers inside the photo and customize them as you wish.
Add Clipart
Add Vignette to Photo
With this tool, you can quickly add a vignette to a photo and adjust the brightness and saturation settings. The vignette makes the edges of the photo slightly darkened and increases the visual focus of the center of the photo.
Vignette Photo
Rounded Image
This simple tool allows you to quickly round the corners of any image. To do this, you need to adjust the radius of rounding of the corners and choose a background color, or make a transparent background.
Round Corners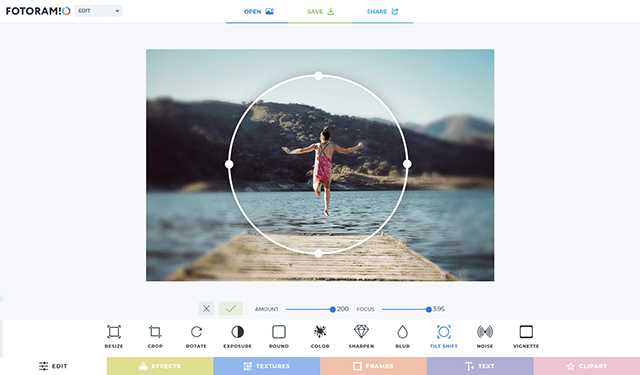 Tilt Shift Photo Effect
Want to make a tilt shift effect for a photo? Try the Tilt Shift tool by our free photo editor, which allows you to quickly adjust the amount of focus and the depth of image blur. You no longer need to download additional software to achieve the Tilt Shift effect.
Tilt Shift